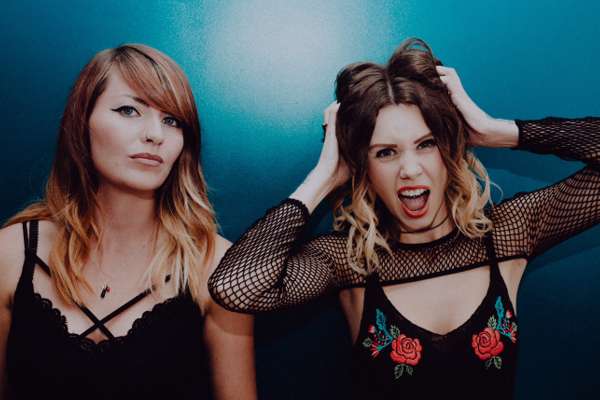 Line Up
About
Rews are the London/Belfast based high-energy alternative rock duo consisting of songstress Shauna Tohill and vocalising beat-rocker Collette Williams. Together, they create high energy, infectious alt rock, described by Team Rock as "melodious but badass". The pair have performed at a string of high profile festivals and international showcases and their debut album "Pyro" is out now.
The band's first single, "Miss You In The Dark", was released on 23rd June 2017 to coincide with the band's set on the John Peel Stage at Glastonbury Festival. Mark Radcliffe from BBC 6 Music named Rews as one of his highlights of the festival live on BBC TV's Glastonbury coverage, describing them as a "female Royal Blood", adding "stupendous - if you get a chance to see them - go!".
The band's follow-up single, "Shine", was released on 18th August. The track has been a staple on both Kerrang! Radio, Planet Rock and Radio X, and has also been played on BBC Radio 1 and Ireland's most popular commercial radio stations, Today FM and 2FM.
The third single "Your Tears" was released on 20th October. In the same month, Rews played on the main stage at each day of Amplify 2017 (an event celebrating ten years of BBC Introducing) and released a video of a special acoustic performance of "Miss You In The Dark" for Sofar Sounds in London. On 1st November 2017, Pyro was featured on BBC Radio 1's "It's Album Time", which is available to listen to here.
The band's debut album "Pyro" is available to stream and download now. It is also available on CD. A white/pink splatter LP will be released on 15th December 2017. The band will be supporting the album with a UK tour in November/December, with Huw Stephens having previously called them "brilliant live".
Press
Nominated for Planet Rock's "Best New Band" for 2017
"Shauna Tohill and Collette Williams' debut crackles with wit, verve, energy and enthusiasm, with Tohill's fizzing, fuzzy riffs overlaid with the duo's sharply-structured vocal harmonies and captivating, instantly addictive melodies." Planet Rock Magazine
"Melodious but badass. We'll take that." Team Rock
"Brilliant live" Huw Stephens
"Glam-rock guitar indie pop at its best" – Nialler9
"Hooks that give you goose-bumps you could hang your hat off" – Hot Press Magazine
"This is good, this is really fucking good" – CeolCaint.com
"Infectious uplifting songs overflowing with punchy choruses and hooks" – Bestofmusicandfilm.com
"Hook filled power-pop, a real ear-worm" – EncoreNI.com
"If you're not instantly foot-tapping then you must be clinically dead" – Joe Donnelly TXFM
"Rews are all about conjuring up choruses that are ready to ride the airwaves." – Hot Press Magazine
"One of Ireland's most promising tunesmiths" – Hot Press Magazine
"Ultra high energy infectious alt rock" – YourHandsMusic
"Bouncy & Brilliant" – Indieminded
"In a music world that seems to lack originality and edge: Rews are a duo that blows the cobwebs away and mark themselves out as a mainstream act of the future." Music Musings and Such
View Profile